Let´s go on a trip!
Suddenly, life has changed. I have stopped taking the subway, going to my studio, walking around the city, seeing movies at the theater, and meeting up with my friends. I spend my days in quarantine, going outside only to shop for food or to get a little fresh air.
Projects and trips have all been postponed. The city has become the new epicenter of the pandemic and life has been made more difficult for all of its inhabitants. Many people have lost their jobs and are getting desperate about paying bills. News from the world outside is far from encouraging. Entire countries have closed their borders. The US presidential response in itself has been a disaster.
I think about what I can do to remain as mentally creative as usual while stuck in my Manhattan apartment. God gave me the gift of transforming feelings into visual art. And using this power, I have started to make a new series of drawings: an imaginary trip in the midst of life under quarantine. The result is like a diary of insights about my past, my present daily life, and the future.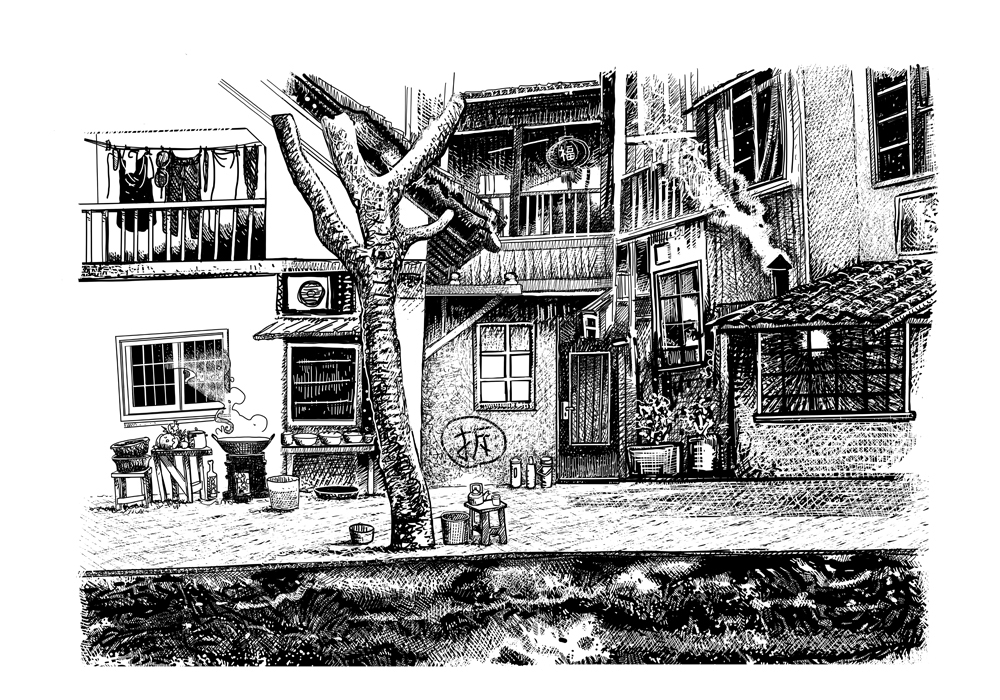 Yangpu District, Shanghai, 2020, digital drawing, 56 x 76 cm/ 22 x 30 inches
My plan was to visit Shanghai in the middle of March. I am just now finishing a big public art installation in a new riverside
park at Huangpu River. The coronavirus outbreak spread quickly from Wuhan to the rest of the country and
unfortunately I was forced to cancel my trip.(9/3/2020)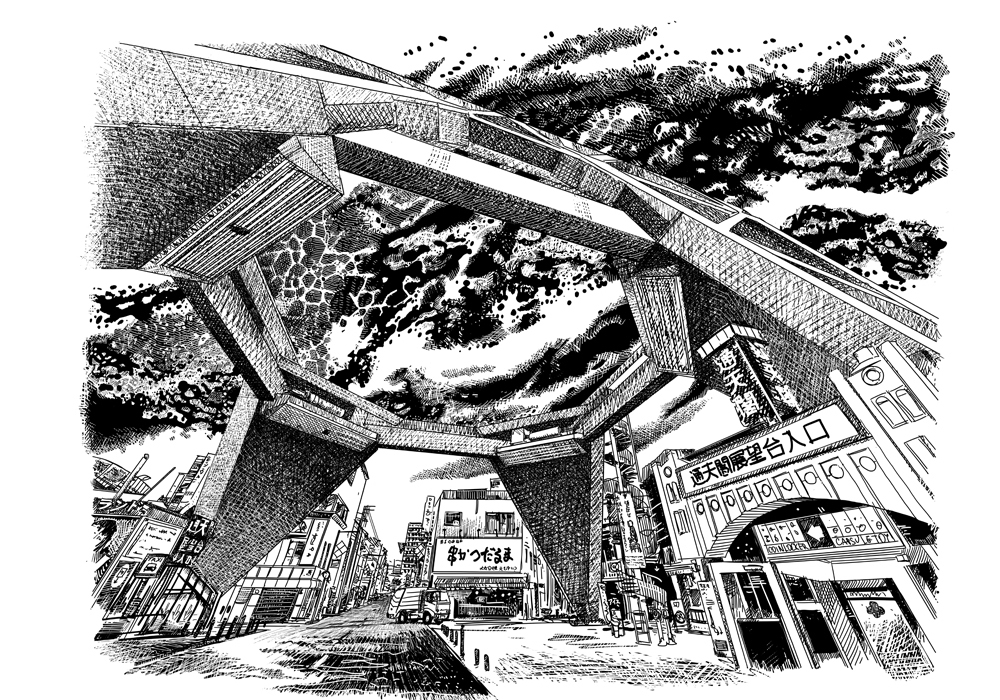 Tsutenkaku, Osaka, 2020, digital drawing, 56 x 76 cm/ 22 x 30 inches
I was supposed to travel to Osaka at the end of March, to have a meeting with a museum curator and prepare for
a show that would take place at the end of year. I was thinking about preparing a series of works with a local theme,
and hoped to also spend the trip researching the history and culture of the area. However, after the coronavirus
outbreak hit Japan, I needed to give up that trip too.(13/3/2020)


Takoyaki, Osaka, 2020, digital drawing, 56 x 76 cm/ 22 x 30 inches
Another study about Osaka city, famous for its street food.(17/3/2020)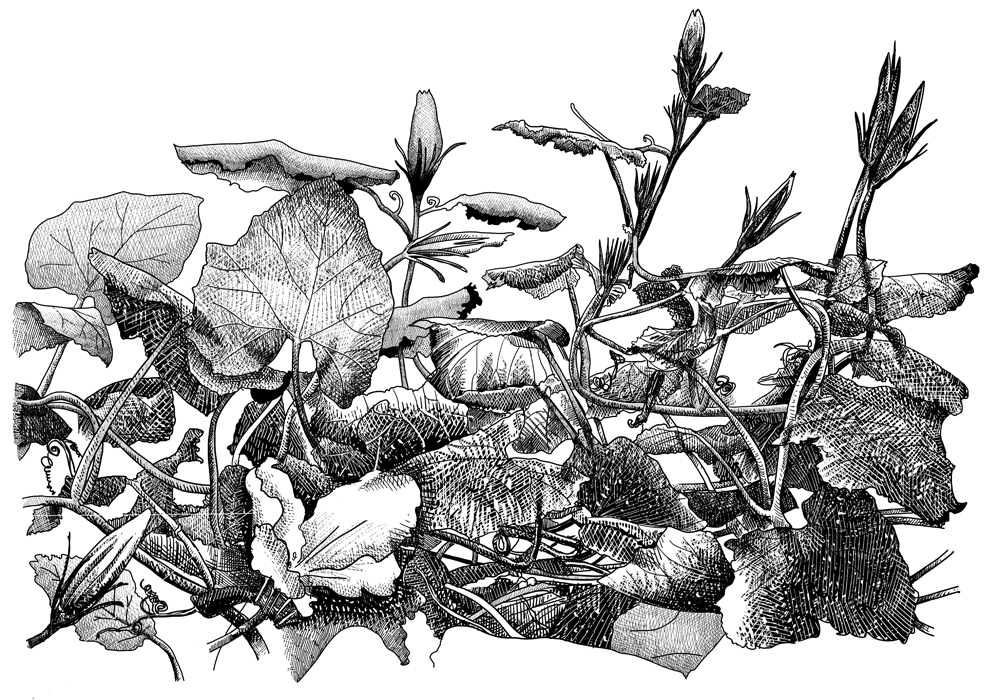 Window Garden, New York, 2020, digital drawing, 56 x 76 cm/ 22 x 30 inches
Without trips and with the outbreak starting to skyrocket in New York City, at present my only option is a quiet
quarantine in my apartment. It´s boring to stay inside all day, but looking at the small garden on my windowsill,
I see Spring in the new little pumpkins flowers.(21/3/2020)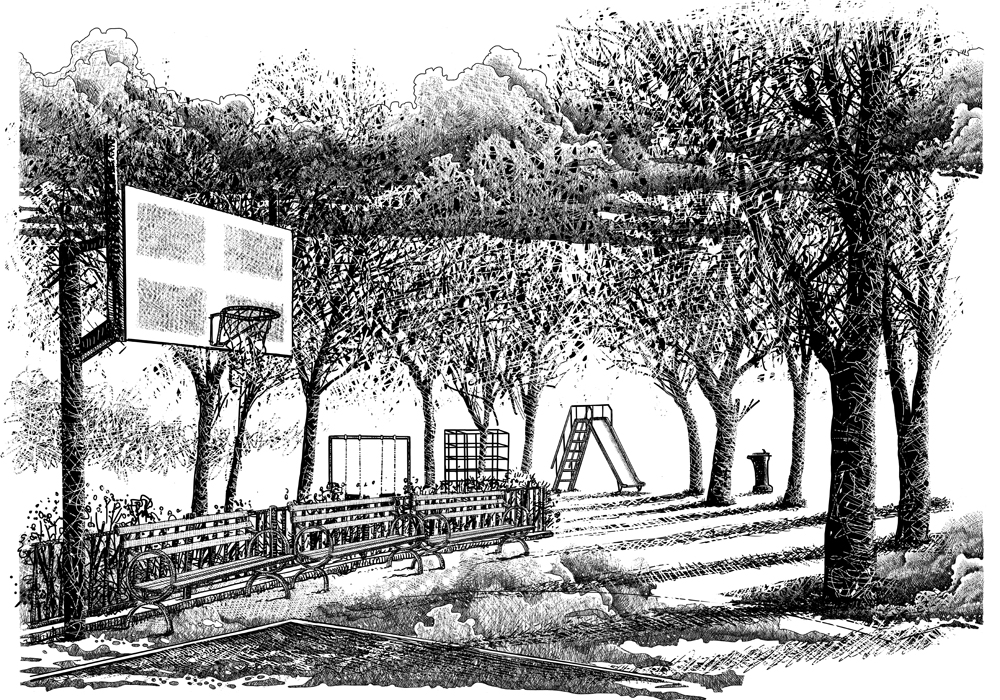 Hell's Kitchen Park, New York, 2020, digital drawing, 56 x 76 cm/ 22 x 30 inches
A few weeks ago this local park was filled with kids, teens playing basketball, and adults looking for some nature
and quiet. Now the cherry blossoms are beautiful but the park is empty. The surrounding restaurants are closed.
The city is very quiet. It is an ominous atmosphere.(25/3/2020)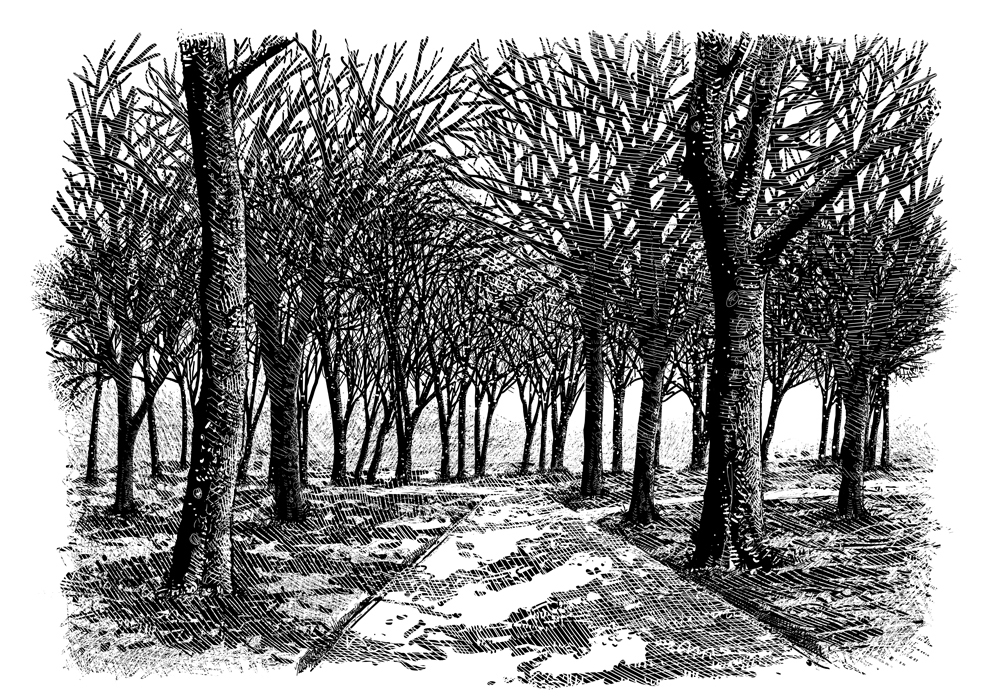 Central Park, New York, 2020, digital drawing, 56 x 76 cm/ 22 x 30 inches
It´s a Saturday with nice spring weather but I don´t see any tourists, street vendors or horse carriages.
Within the silence, the only thing I see moving around the trees is the wind.(30/3/2020)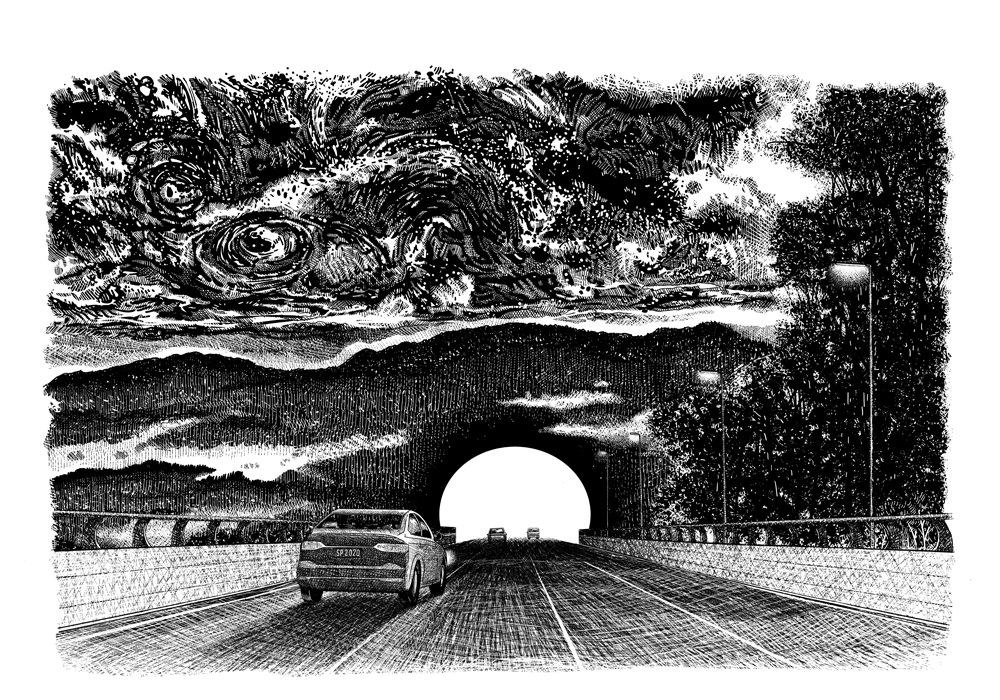 Serra do Mar, São Paulo, 2020, digital drawing, 56 x 76 cm/ 22 x 30 inches
In February when China and part of Europe were under lockdown, the outbreak had yet to hit the Americas.
At that point in time, I was in my hometown, São Paulo. From there I took the expressway to go to
an industrial city called Cubatão. On the way the landscape surrounded by native forest was magical.
Tunnels are supposedly dark places, but these days the world has become so scared that it´s made tunnel
entrances seem enticing, places we can shelter in.(3/4/2020)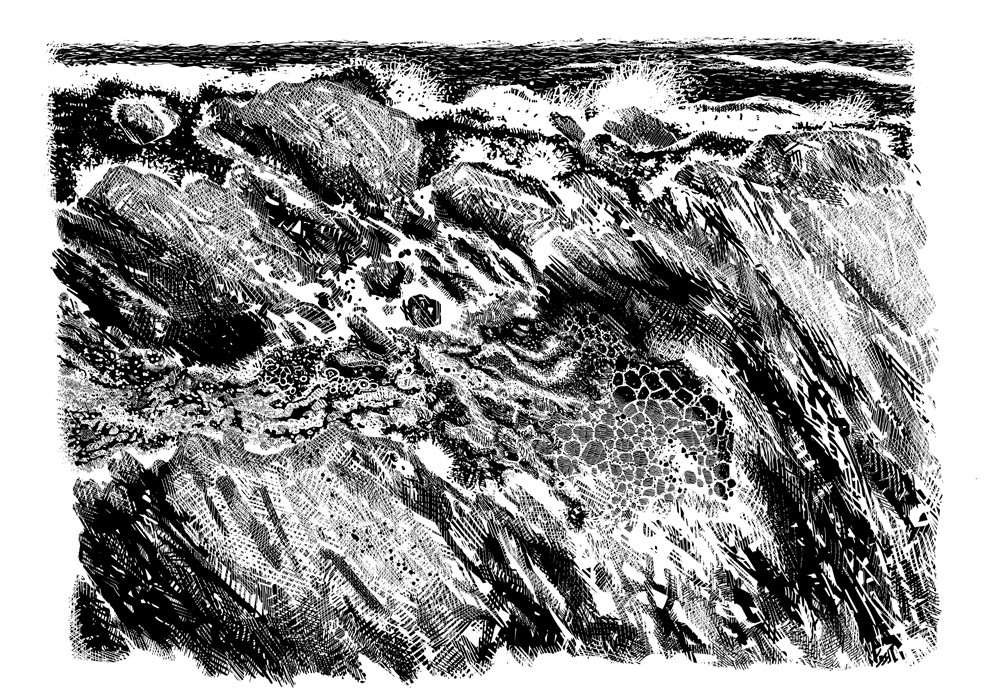 Waves , 2020, digital drawing, 56 x 76 cm/ 22 x 30 inches
The situation is getting critical in the city; thousands of people are dying.The lack of federal leadership
is imminent. Hospitals are overcrowded and increasingly lacking basic medical protection. The Navy hospital
ship USNS Comfort has docked in the harbor. The Jacob Javits Center has been transformed into a war zone against
the invisible enemy. Refrigerated containers are parked outside of hospitals to preserve the bodies.
The weather has changed and I can see waves everywhere.(6/4/2020)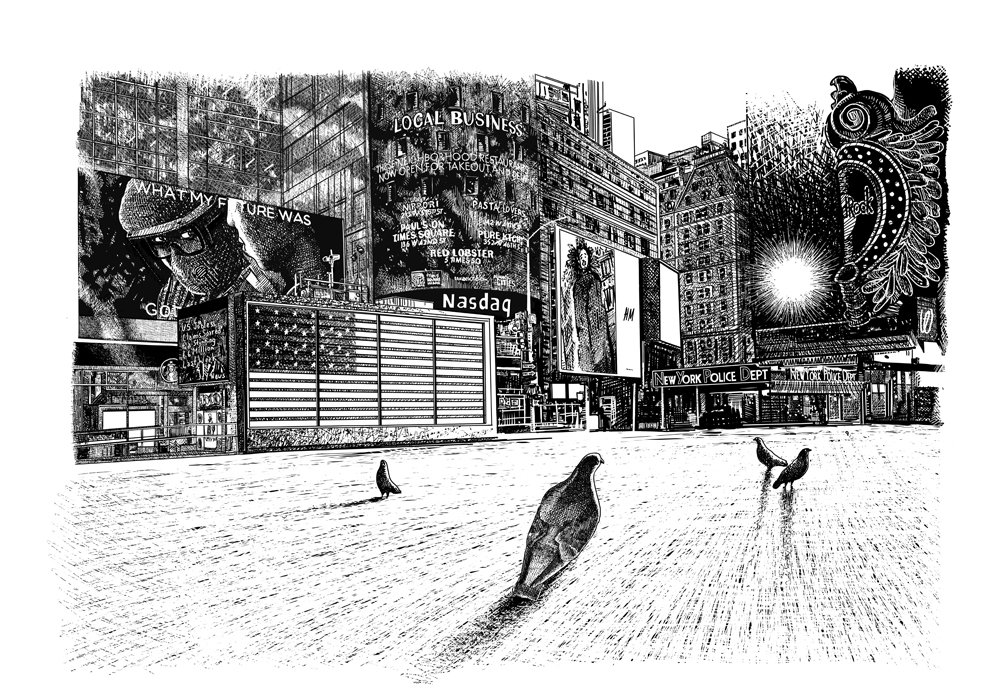 Times Square, New York, 2020, digital drawing, 56 x 76 cm/ 22 x 30 inches
Once a place crowded with tourists from around the world, Times Square is now completely empty.
Everything is closed. Why don´t they turn the sign lights off and save energy?(10/4/2020)


My Desk, New York, 2020, digital drawing, 56 x 76 cm/ 22 x 30 inches
This little table has become the center of my life. If I can no longer travel every day to my studio,
I think the best I can do now is to stay quiet and wait until the thunderstorm has passed. The outbreak
in the city is expected to reach its apex in a week, and we still have a long path to traverse. But now after
three weeks in quarantine, this irregular life has become the new normal, and I am feeling less stressed.(13/4/2020)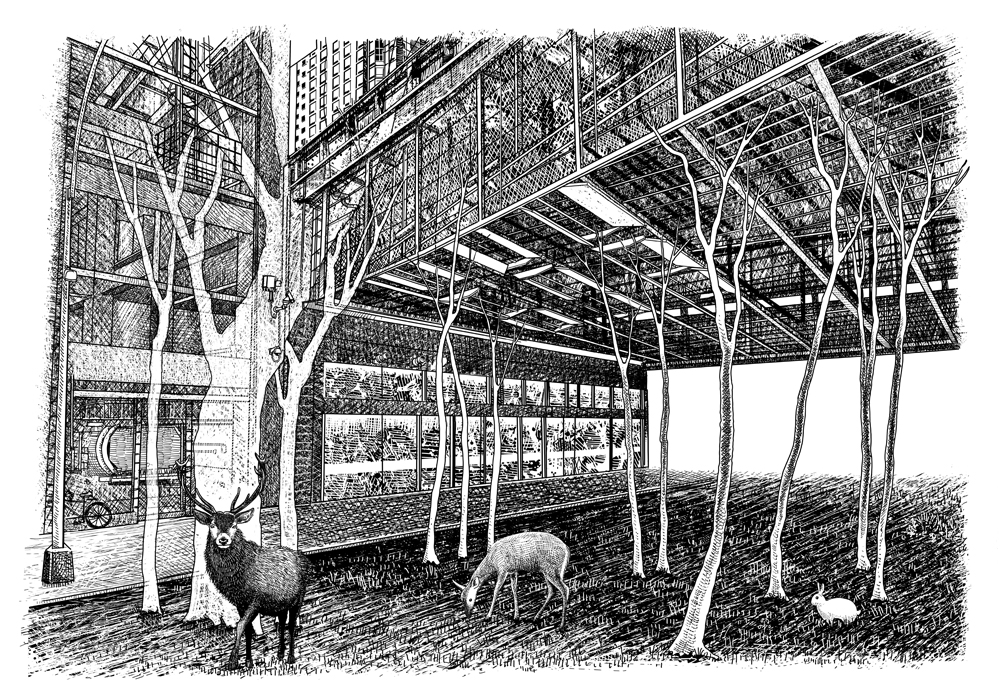 9th Avenue, New York, 2020, digital drawing, 56 x 76 cm/ 22 x 30 inches
I imagine that after the apocalypse, the former capital of the world will transform into a ghost town.
Slowly, it will be covered by vegetation and wild animals will return. This work is from my imagination
but the reality of it is very cruel. Walking on the street, I see more homeless people trying to find food,
like animals in the woods.(17/4/2020)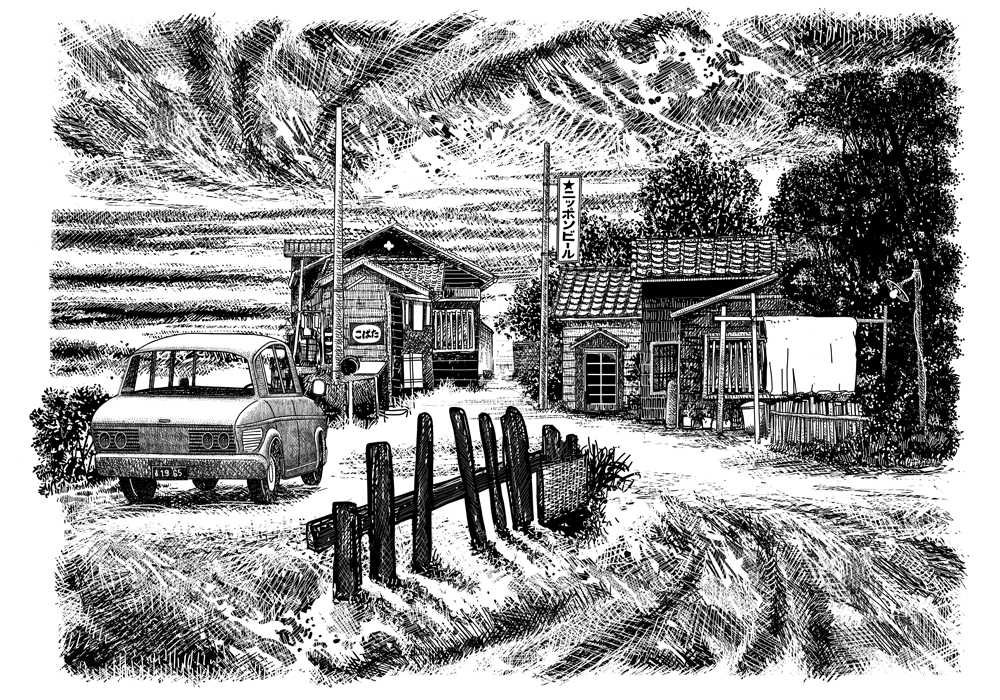 Showa Nihon, 2020, digital drawing, 56 x 76 cm/ 22 x 30 inches
Quarantine is a good time to see movies from the internet. I love to watch old Japanese black & white movies
from the 50´s and 60´s, the golden era of Japanese cinema. At the time, the country was recovering from World War II
and TVs were not yet accessible for all. Compared to technology these days, it is simple but I can feel the team creativity
behind the camera. These movies are like black & white drawings. The simpler the medium, the more difficult
it is to produce a good work.(20/4/2020)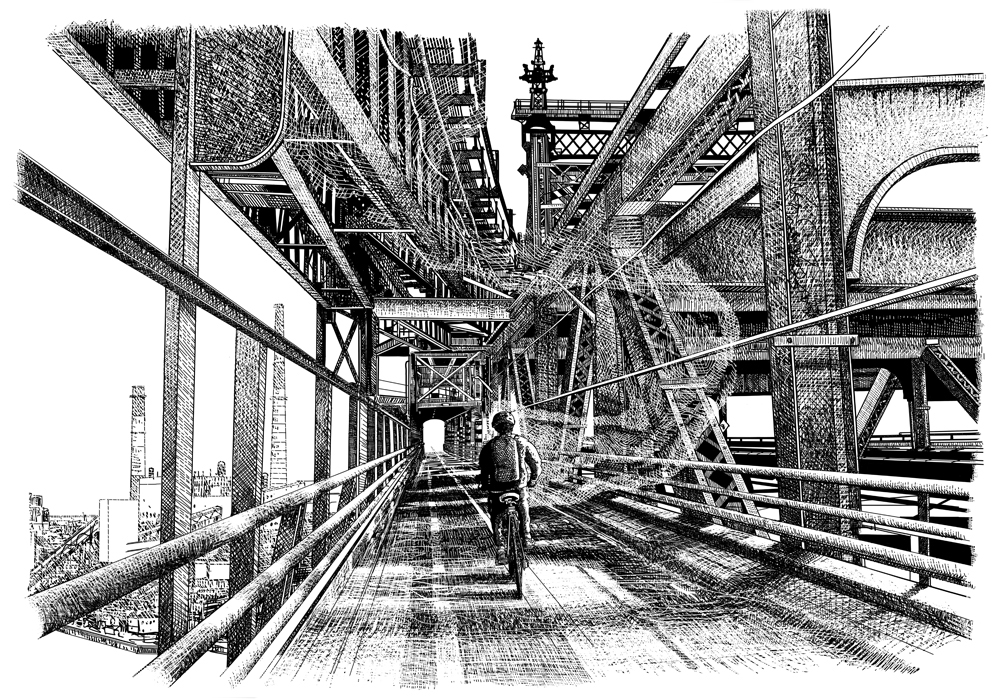 Queensboro Bridge, New York, 2020, digital drawing, 56 x 76 cm/ 22 x 30 inches
It has been a month since the outbreak started; New York State now has a quarter-million people infected
and 20,000 deaths. It is a very scary number; anyone can die at any time. To prove to myself that I am still alive,
once a week, I take my bike and ride from my apartment in Manhattan to my studio in Queens, crossing the East River
by the Queensboro Bridge.(24/4/2020)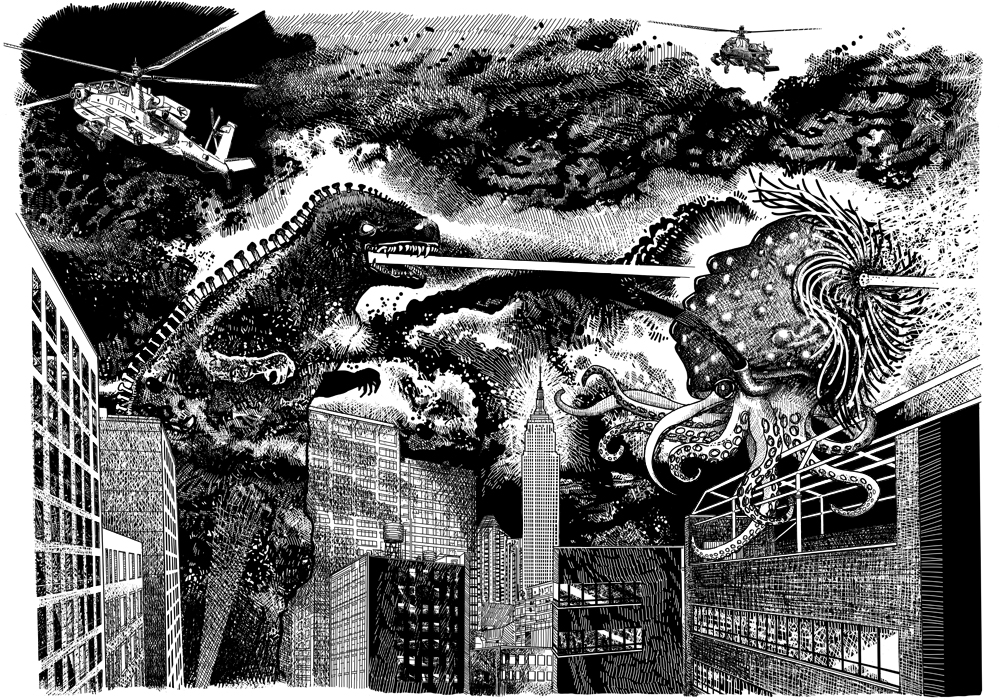 View From My Window, New York, 2020, digital drawing, 56 x 76 cm/ 22 x 30 inches
During the quarantine, people spend a lot of time on the computer. They share things on social media like
small home concerts, cooking skills, and views through the window. My window is like a giant movie screen:
from here I can see so many things happening because this is a city with a high density of villains and superheroes.
Tonight´s attraction is a classic science fiction B movie, an epic battle of Codzila vs. Trumtopus!(28/4/2020)




Kitchen of the Future, New York, 2020, digital drawing, 56 x 76 cm/ 22 x 30 inches
Quarantine is a good time to cook at home. When the Second World War ended, my father was twelve years old.
During that time, food was very scarce in Japan and he was always hungry.These days, we globally throw out
around one third of food we produce. For the middle class, eating is not a problem anymore and we have
many options. Some love processed foods, others are vegetarian, vegan, microbiotic, etc. But ironically,
looking at the numbers, the "hungry generation" of the past tends to have a longer life than
my generation. So looking at my kitchen, I imagine this should be wilder. (7/5/2020)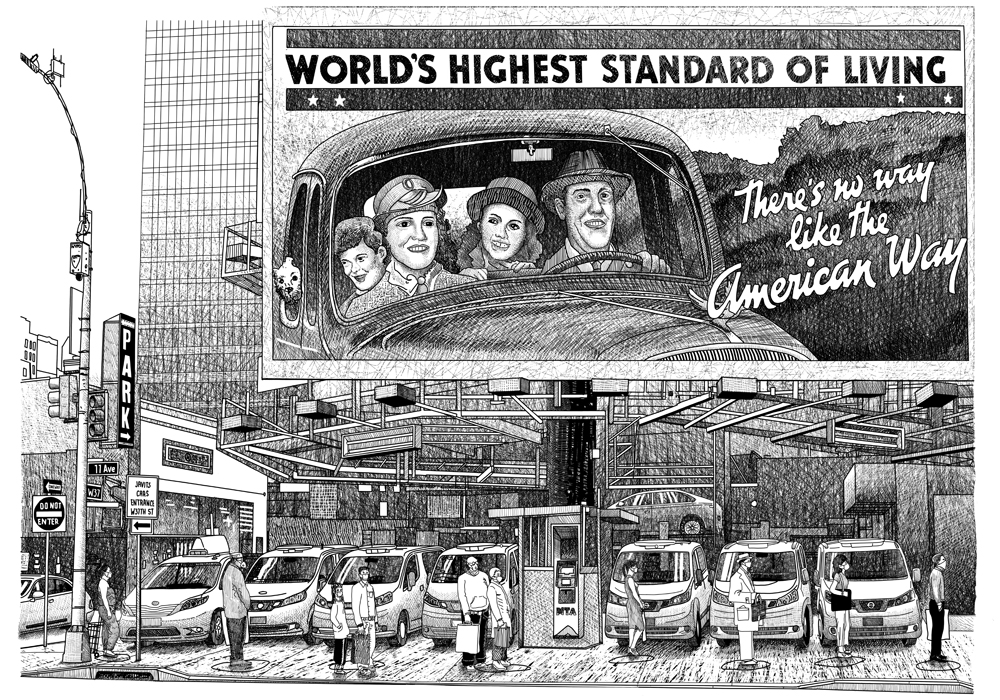 The Great Depression, 2020, digital drawing, 56 x 76 cm/ 22 x 30 inches
The pandemic is now a little more under control in the State of New York. The mortality rate has
dropped to around 200 from a peak of 1000 dying per day. Now a second crisis is coming. Newspapers say
that 33 million people in the US have filed for unemployment benefits in the last 6 weeks. This translates
to 1 in 5 American workers suddenly without a job. Public schools and food banks all over the city have been
struggling to distribute enough food. This drawing is a modern version of an iconic photo shot by
Margaret Bourke-White in 1937´s recession. (12/5/2020)


A Sick Country, 2020, digital drawing, 56 x 76 cm/ 22 x 30 inches
Some politics are disgusting-- especially politics shaped by our top politician and his supporters.
We are in the middle of a historic pandemic, tens of thousands of people are dead or dying, and yet they
are playing the game to their own benefit, for political or economic gain. I cannot forgive them,
with thousands of citizens falling victim to their greed. The current administration cannot be pointing
fingers to China, past US administrations, WHO, or anyone else. I think a considerable part of the
population is also responsible through their support of this corrupt system (19.5.2020)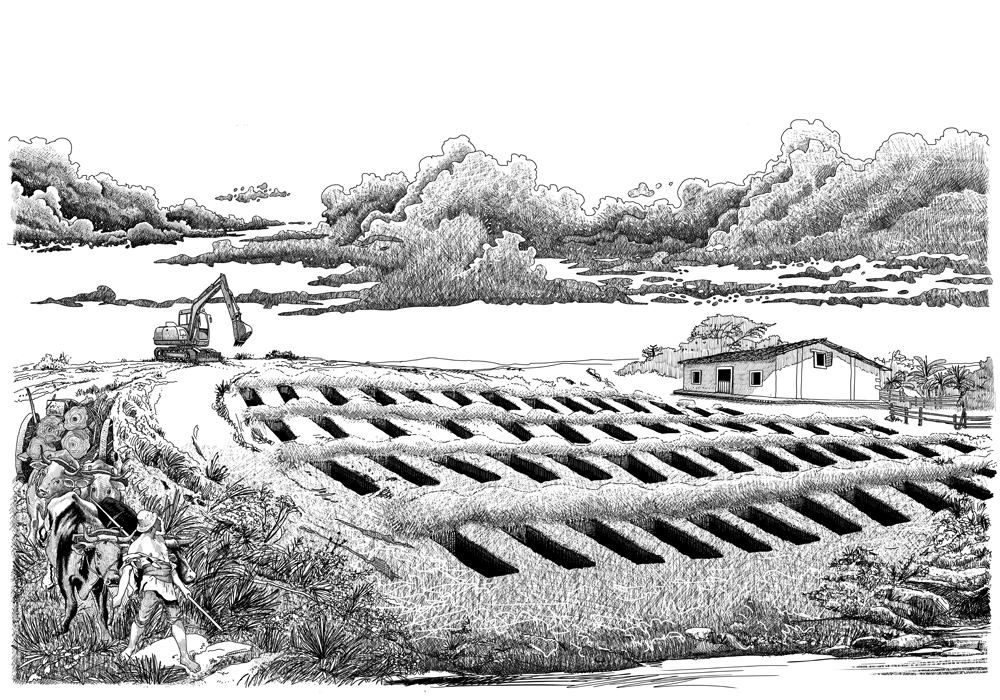 Independência ou Morte, 2020, digital drawing, 56 x 76 cm/ 22 x 30 inches
After China, Italy and the USA, now my home country Brazil is the worlds new coronavirus hotspot. I am worried
about my family and the close friends I have living there. In Brazil, education was always a big problem, even among
the so-called elite. President Bolsonaro is a good example. A disaster as a national leader, he has fired two
Secretaries of Health in the middle of this crisis for wanting to follow the WHO social isolation policy and for
refusing to approve Chloroquine drugs as treatment. Thousands of people have already died unnecessarily as a
result of the country´s lack of health policies. This drawing is a re-interpretation of perhaps the most famous
painting in Brazil. The original painting, created by Pedro Américo in 1888, is called Independence or Death
and represents the proclamation of Brazilian independence.(23.5.2020)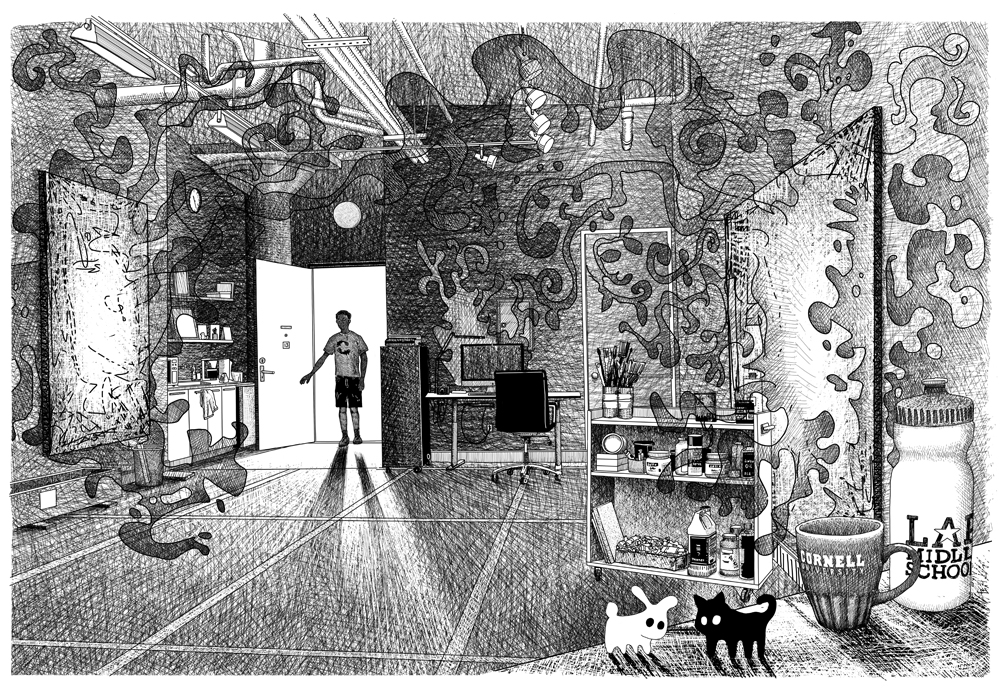 Back in My Studio, 2020, digital drawing, 56 x 76 cm/ 22 x 30 inches
The number of people on the sidewalks of NYC has visibly increased. The streets have become noisier.
Shops have started to reopen. The "curve" is looking better and hospitals are quietly awaiting a second wave.
Overall, the situation is still far from safe, but I´ve decided to move forward and "reopen my business"
as well, heading back to my studio activities after 11 weeks in quarantine. This spring was a months-long
time stop, but I am happy that it was possible to survive this period without big losses.

However it is clear that society has become more tense with this record unemployment rate: it feels to me
that any small spark has the potential to cause chaos. I can´t predict the future, but I believe the second
wave will be a social crisis. The reason could be racial issues, right-wing movements, government corruption,
or any of the myriad of other issues that have already been escalating in recent times. The near future is
not so bright, but I hope that this is temporary and better days will come soon. (29.5.2020)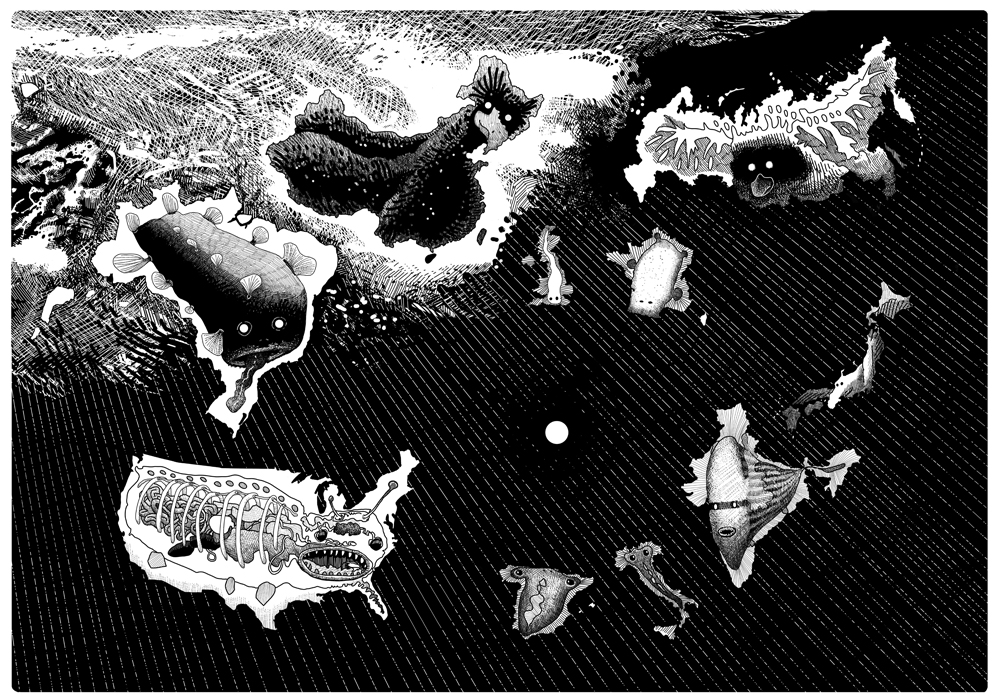 Re-opening, 2020, digital drawing, 56 x 76 cm/ 22 x 30 inches
The outbreak started in a Wuhan wholesale food market in early December of 2019. Half a year later over
7 million people have been infected and over 400 thousand have died. What impressive and alarming statistics!
Now, laboratories worldwide are racing against the clock to develop the right vaccine.

In this drawing, each mysterious animal swimming in the deep sea represents a country (China, the USA,
Brazil, Russia, the UK, Spain, Italy, France, India and Japan); the central light represents the vaccine to come.
At the same time, the animals appear to be ghosts wandering across the universe and looking inward at a
small planet called Earth. It has come time for me to resume my normal life, or whatever version of it is
now available. And so I will end this quarantine drawing series here.

This series is dedicated to all the medical staff who have worked or are continuing to work
on the front lines. Thank you! (9.6.2020).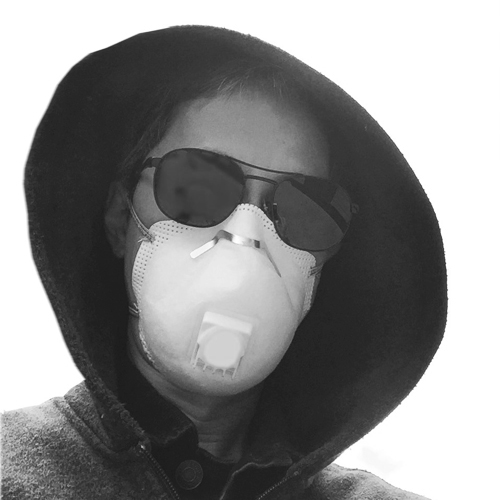 ©Oscar Oiwa Studio. All right reserved.